I love a good vacation. Escaping the snow to somewhere warm and tropical, palm trees on the beach and a pina colada in my hand – this is what I dream about when the snow is two feet deep outside on my driveway. This year, we got to do the unthinkable and skip the holidays on a Christmas cruise on my favourite boat, the Norwegian Dawn! It was so great to be surrounded by our family as we sailed the seven seas on the trip of a lifetime.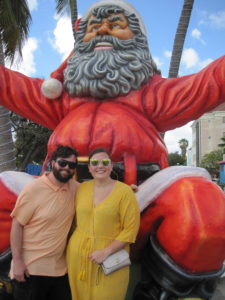 I'll admit, this trip was the most humbling experience that I have ever had in my life. Seeing the impact of Hurricane Irma and Hurricane Maria on some of my favourite islands during our Christmas cruise shattered my heart in a way that words can't begin to describe. We made an effort on every island to connect with the locals, whether they were cab drivers, bartenders, tour guides, or just people at the table next to us. Everyone had a unique story that would change my views and mindset forever.
Island Hopping
The islands were amazing! We visited the ABC Islands – Aruba, Bonaire, and Curacao, Grenada, Barbados, St. Lucia, Antigua, and Guadeloupe. It was a non-stop adventure and I really needed to relax when we flew over to St. Thomas for New Year's Eve after all of that excitement! We went on a catamaran and snorkeled in Aruba, toured the outback in Bonaire, walked the streets of Curacao, explored the fort and dined in Grenada, sat on the beach in Barbados, saw the Pitons in St. Lucia, shopped in Antigua, and toured a beautiful botanical garden in Guadeloupe.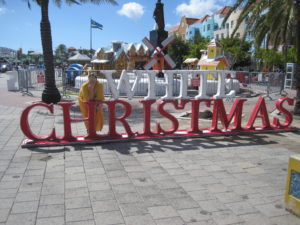 I had two favourite days on the Christmas cruise. One was something that I had done many times before. In St. Lucia, we boarded our NCL tour bus for an island tour where we swam in a waterfall, learned about spices and chocolate at a plantation, and saw breathtaking views of the Pitons. We then boarded our catamaran for the sail back to the cruise boat and even stopped in at a local beach to swim. It was absolutely amazing and to do it all on Christmas Eve just made it even more perfect.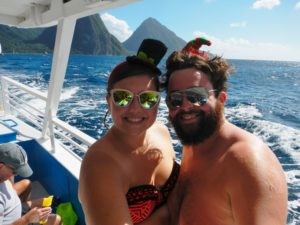 My other favourite day was when Tommy and I got off the ship in Grenada and despite me being uncomfortable with my surroundings due to past experiences on the island, Tommy encouraged me to hike up the steps up to the old Fort George in Grenada. After seeing the magnificent views, we went down to Sails for lunch at the Carenage and enjoyed conch fritters and plantains. We then walked back to the boat through the Sendall Tunnel, which I had only driven through in the past and then we watched the sunset over Grenada from the Norwegian Dawn (my favourite boat!).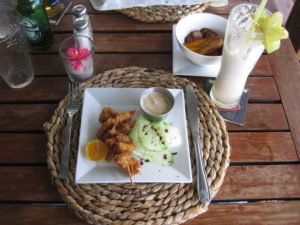 What An Adventure
I love excursions that challenge and inspire me, as well as adventures that are well within my comfort zone like repeat day trips around St. Thomas and Barbados that I had done countless times before. It was such an impactful Christmas cruise, so despite our cancelled flights with Seaborne Airlines to St. Thomas without any notice, rerouting through Texas to get to San Juan on the way to the boat in the first place, AND being abandoned by Air Canada and United in St. Thomas on the way home, this cruise will still go down as a trip of a lifetime in my books.