I love spring. The colours, the flowers, the end of a term, and of course, my birthday! One of my favourite things about spring though is the fashion and how versatile the season can be with different colours, materials, and styles.
Pastels
You might be thinking: "Pastels for spring? How groundbreaking". Pastels are one of the biggest spring trends that we see come back each year, especially with the recent Pantone colours (does anyone else remember 2016 when we had two beautiful pastel shades)? Consider adding some duck egg, lavender, or my personal favourite, blush pink, to your wardrobe for the next few months. Plus, if you haven't already heard, lavender might be replacing #millenialpink – just not on this blog!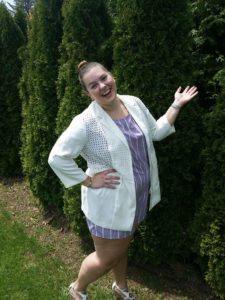 Sheer & Shiny
Lace, mesh – if it is see-through, it is perfect for spring. I love pairing sheer body suits with jeans or high waisted skirts for date nights with a stylish bra or bralette underneath. Plus, it's 2018 so we can't be afraid to show a little skin anymore! Shiny is also in for spring. If you don't want to fully embrace that pair of shiny pants, add a shiny purse or shirt into your wardrobe for this season. I bought this amazing bodysuit from Addition Elle from their latest Jordyn Woods collection which I adore that embraces the season.
Puffed-Up Shoulders
These are back for spring 2018 and I have to admit that I am very excited. My beloved grandma passed away in November 2017 and I inherited a portion of her wardrobe which included some blouses and blazers that featured exciting shoulders. I can't wait to wear these all spring (and hopefully summer) long! Be sure to counterbalance with a tight bottom like a skirt, jeans, or fitted dress pants.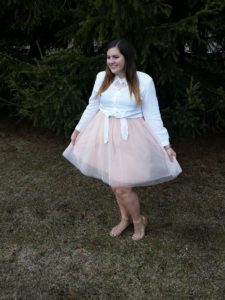 Prints – Polka Dots or Plaid
Prints are always in, but this season both polka dots and plaid have come back with a vengeance. I'm a huge fan of buffalo plaid myself because I am a very proud Canadian, but finer plaids and smaller patterned elements like purses and shoes are a great way to spice up the wardrobe for spring.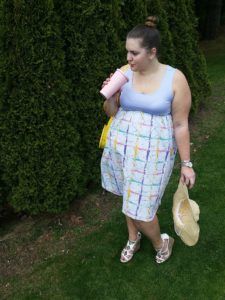 Bermuda Shorts
One of my favourite spring/summer looks is Bermuda shorts or long shorts with a blazer. I love this look for work or a casual day at the country club. So classy and so timeless. Plus, it reminds me of my upcoming September trip to Bermuda, so if you have any tips for that, drop me a comment below. Check out this look from Addition Elle that I adore too:
Happy spring shopping and look building!