2017 was a very difficult year for me. I struggled with my mental health which made finishing graduate school challenging and my beloved grandmother, whom I was very close with, passed away suddenly. I had trouble remaining organized and motivated because of everything that was going on, but I've made it to 2018 and I've never been more positive at the start of the year than I am right now. 2017 was a challenge but I came out stronger and grew as a person because of it. People on social media have talked about taking January 2018 as their 'free trial month', which is exactly what I'm going to do.
2018 Begins Now
I've worked hard to think about what I hope to achieve this year. While I definitely want to travel more and cross more countries and US states off of my bucket list, my key goals this year are surrounding my own health and wellness. I'm putting myself first. I'm working hard to remove the toxicity from my life, whether it's negative relationships, bad habits, or cutting back on nacho cheese haha, 2018 is about being positive and whole. Additionally, 2018 is about living life to the fullest. I plan to cross a few restaurants off my bucket list, go to a few events that I have had my eye on, travel more, and enjoy each day.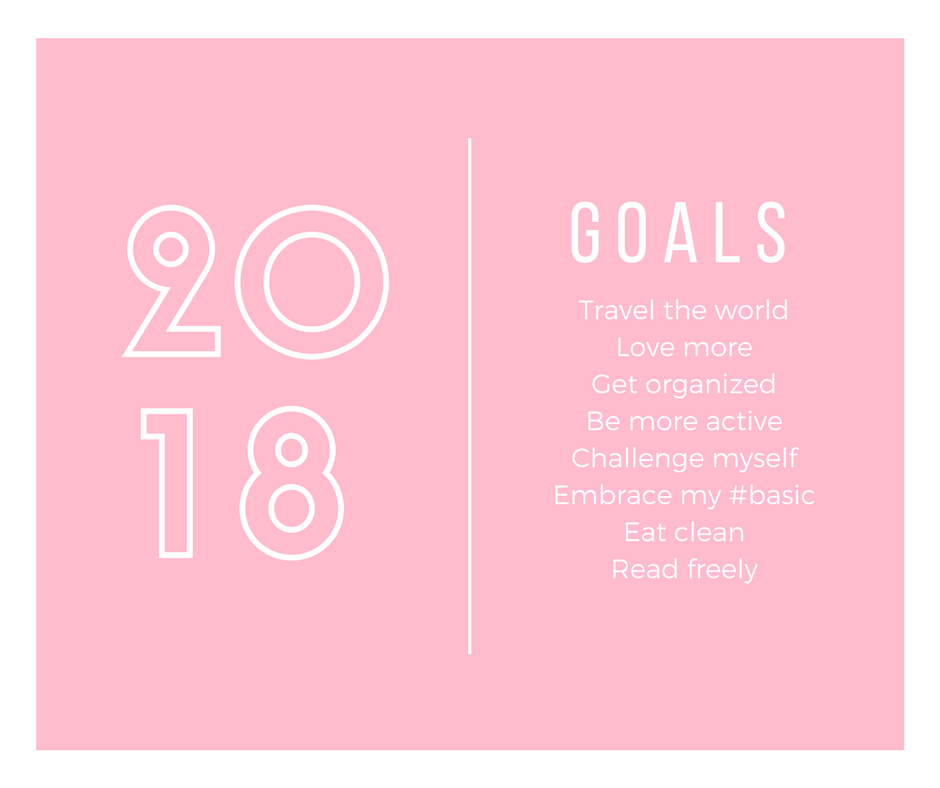 One of the key things that I want to accomplish this year is getting more organized. I've purchased another one of my favourite agendas by Ban.do to help me keep my busy life in order – you can find it at Chapters / Indigo. I have also taken up bullet journalling so if you have any tips, please don't hesitate to message me! My quest for organization also includes my home and my closet. I plan to complete my dresser project in February so that I can store away Tommy's clothes, donate more to local women's charities, and declutter.
I also want to continue to be more active this year and challenge myself. I hope to complete more hikes this year and I have already signed up for both the MudHero race and the OASIS Zoo Run, which I am really looking forward to. I already eat a healthy diet that is low in carbs and mostly organic (except for when I'm dining out at yummy restaurants, of course!), but I want to keep making improvements and drinking more water throughout my days too. Recently, I upped my daily step count to 7,000 minimum on FitBit, so I'd love to increase this again mid-March and again a few months later. I already feel great from the lifestyle changes that I made in 2017, so I can't wait to continue this progress in 2018.
Embracing my #basic self is definitely something I plan to do more of in 2018! I want to shamelessly wear my Uggs, drink my #PSL from Starbucks, and scroll through my Insta feed with my leggings on. I plan to live each day of 2018 fully and be unapologetically me. Mindfulness is important to me and I intend on being confident and ground in my thoughts and beliefs. I'm leaving negative thoughts and negative people behind me in 2017, so this goal connects with everything that I've said above about living 2018 for me and for me alone.
Finally, I can't wait to read freely this year. After being in school for the majority of my life (probably 23 years?), I am finally able to pick up a book that I want to read and not one that's mandatory or from a syllabus. I will definitely be sharing my book reviews with all of you right here on the blog throughout this journey to rediscover my passion for reading, so stay tuned. Please send me any book suggestions that you have!
So 2018! Bring it on!